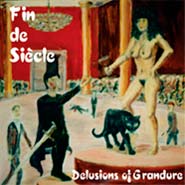 Get your copy of
fin-de-siècle's
first EP,
Delusions of Granduer,
featuring
Bueno Sera Sara, Sound of Survival
and, The Noise's, February 1999 "Song of the Month" and No. 6 "Song of the Year" for 1998,
Moscow Nights.
"Lyrically deep and melodically addictive" – Get Fancy.
Scott outside the Moulin Rouge, March 19, during the 2008 Paris Tour.
fin-de-siècle is pleased to announce six sold out shows in Paris, from August 6th through the 11th, at the world famous Moulin Rouge. Tickets sold out quickly for all these last minute shows that were only recently added to the 2012 Tour at the end of June.